Livewire: Macro explanations don't hold water in small caps (and these stocks prove it)
This article was published on Livewire Markets by David Thornton on 17 March, 2023. 
Markets have been drowned out by the macro – be it inflation, rates, geopolitics, the labour market, government and corporate debt, or the myriad of other factors you'll see discussed.
The corollary is that stock analysis too often boils down to macro conclusions. Even when analysis is done using bottom up fundamental analysis, the outcomes are often tied back to macro.
There's nothing wrong with this (and often these conclusions can be valid). But what explains the dispersions between stocks within sectors? Filling this gap is the key to achieving alpha through the cycle, especially when volatility is high.
At the latest Pinnacle Insights LIVE 2023 Australian Equities event, David Wanis, a portfolio manager at Longwave Capital, demonstrated the benefit of looking past the macro to understand company performance.
As he explains, macro can explain sectors but it doesn't do a very good job of explaining dispersions within sectors. This wire is a summary of that argument (with some stock examples to boot).
Insights you won't get from macro
"We don't take a top-down view to sector allocations, we think bottom-up, and in small caps that's really important," says Wanis.
If sector distributions were tight, then macro explanations hold a lot of water. But when there's a lot of daylight between the earnings forecasts of different companies within the same sector, macro explanations fall apart.
"The problem with small caps is that the dispersion of how the companies perform far outweighs any of those macro influences."
The sector EPS estimates below show this to be the case.
"Coming into the back half of last year, a lot investors would've questioned why you'd buy consumer discretionary stocks. Rates are going up, so the common view is that retail will suffer as a result.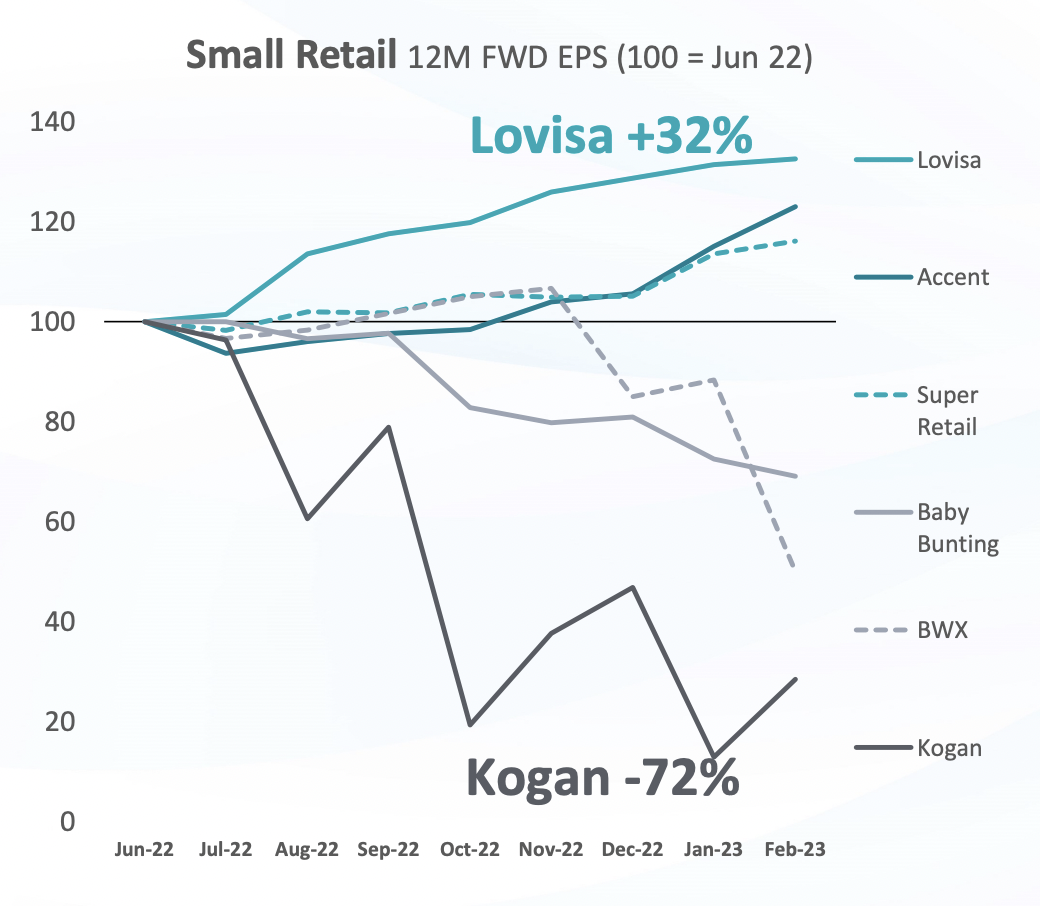 "So the performance of Lovisa (ASX: LOV) and Accent (ASX: AX1) relative to the performance of Baby Bunting, BWX and Kogan had nothing to do with what the RBA was doing. It was mostly down to how company managing were executing and delivering earnings growth to their shareholders."
Not convinced? Let's bring a classic defensive play into the fold – healthcare.
"On the other side you might say 'let's invest in healthcare companies because they're top-down defensive and they have non-discretionary sources of income.'"
"But if you had invested in Australian Clinical Labs (ASX: ACL), Integral Diagnostics (ASX: IDX) or Healius (ASX: HLS) the performance… is opposite what you were hoping to achieve."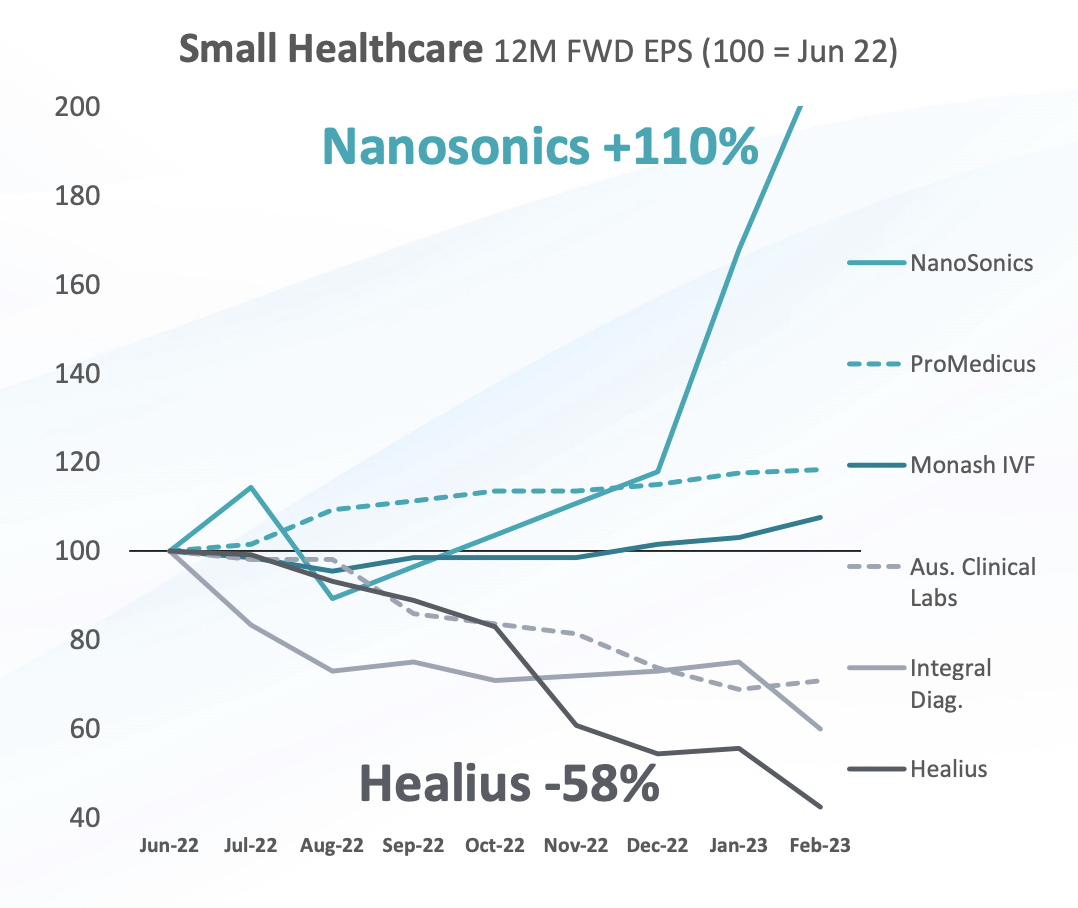 Then there's financials, arguably the most market leveraged sector out there.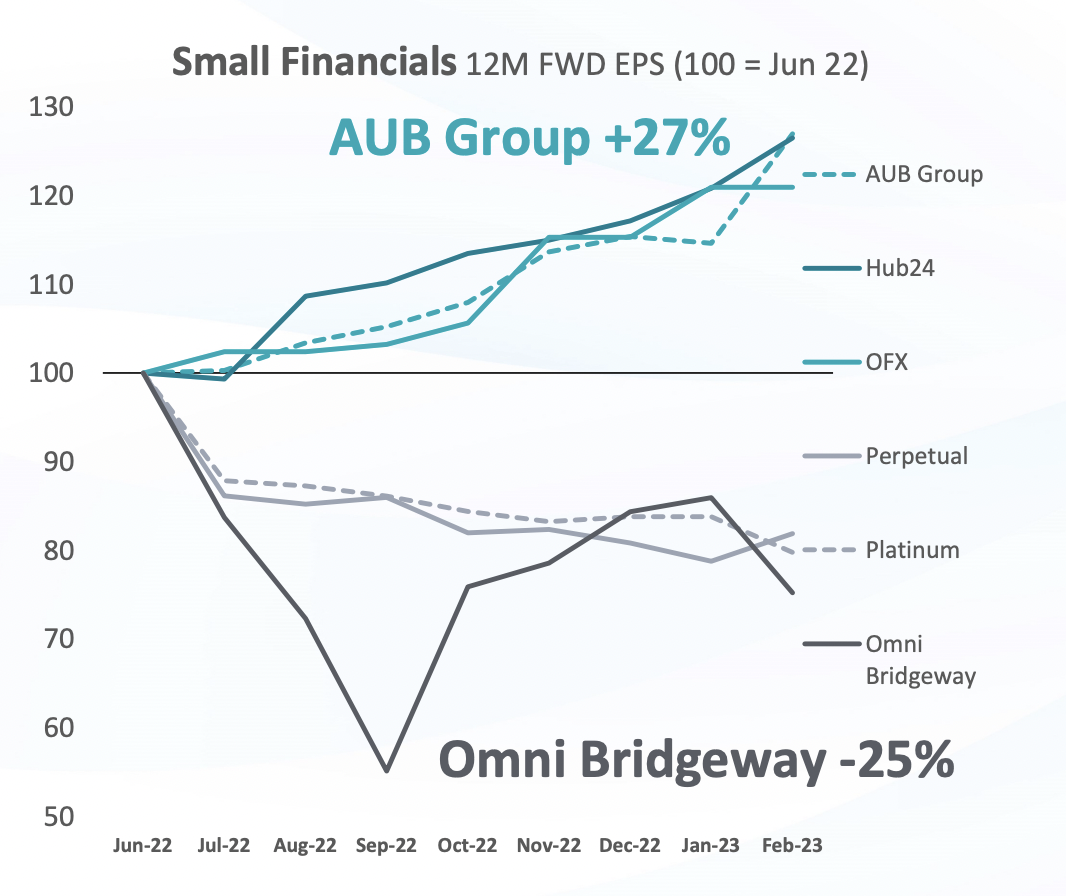 Finally, consumer staples. "The safe part of the market." The same story plays out, as you can see below.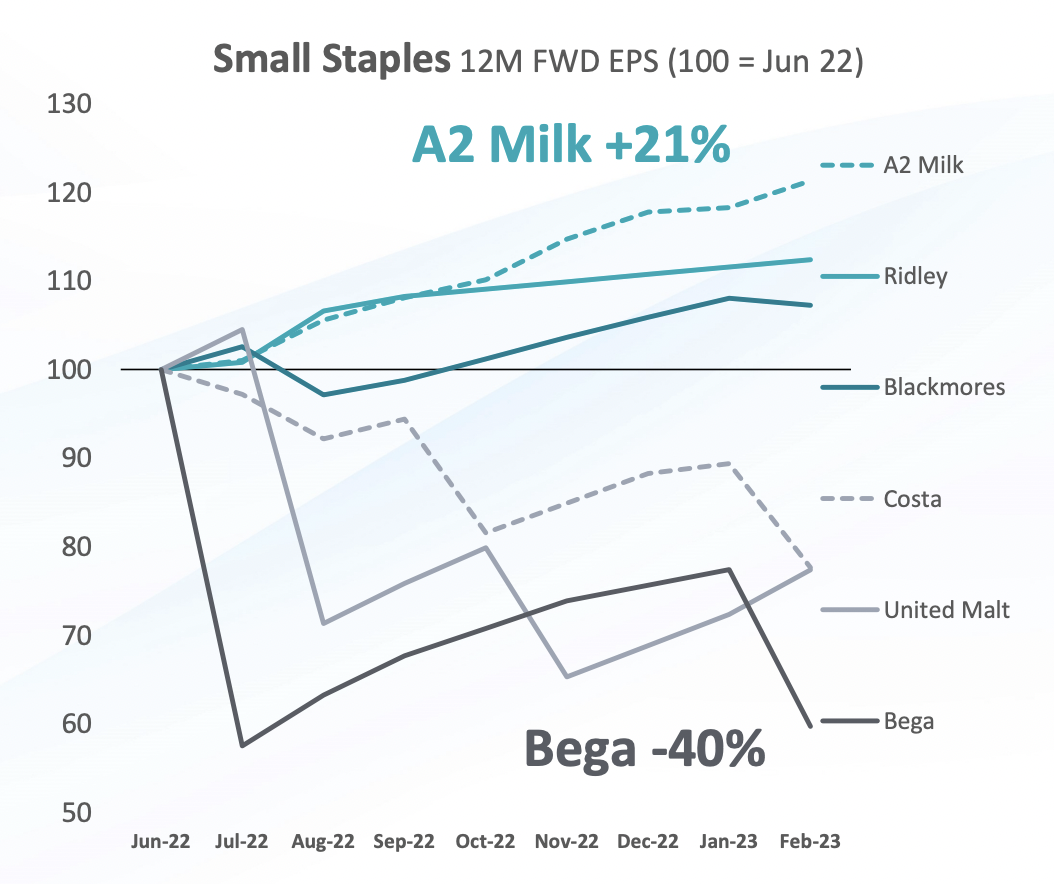 "That's why we're focused on the companies and not the macro."
Disclaimer
This communication is prepared by Longwave Capital Partners ('Longwave') (ABN 17 629 034 902), a corporate authorised representative (No. 1269404) of Pinnacle Investment Management Limited ('Pinnacle') (ABN 66 109 659 109, AFSL 322140) as the investment manager of Longwave Australian Small Companies Fund (ARSN 630 979 449) ('the Fund'). Pinnacle Fund Services Limited ('PFSL') (ABN 29 082 494 362, AFSL 238371) is the product issuer of the Fund. PFSL is not licensed to provide financial product advice. PFSL is a wholly-owned subsidiary of the Pinnacle Investment Management Group Limited ('Pinnacle') (ABN 22 100 325 184). The Product Disclosure Statement ('PDS') and Target Market Determination ('TMD') of the Fund are available via the links below. Any potential investor should consider the PDS and TMD before deciding whether to acquire, or continue to hold units in, the Fund.
Link to the Product Disclosure Statement: WHT9368AU
Link to the Target Market Determination: WHT9368AU
For historic TMD's please contact Pinnacle client service Phone 1300 010 311 or Email service@pinnacleinvestment.com
This communication is for general information only. It is not intended as a securities recommendation or statement of opinion intended to influence a person or persons in making a decision in relation to investment. It has been prepared without taking account of any person's objectives, financial situation or needs. Any persons relying on this information should obtain professional advice before doing so. Past performance is for illustrative purposes only and is not indicative of future performance.
Whilst Longwave, PFSL and Pinnacle believe the information contained in this communication is reliable, no warranty is given as to its accuracy, reliability or completeness and persons relying on this information do so at their own risk. Subject to any liability which cannot be excluded under the relevant laws, Longwave, PFSL and Pinnacle disclaim all liability to any person relying on the information contained in this communication in respect of any loss or damage (including consequential loss or damage), however caused, which may be suffered or arise directly or indirectly in respect of such information. This disclaimer extends to any entity that may distribute this communication.
Any opinions and forecasts reflect the judgment and assumptions of Longwave and its representatives on the basis of information available as at the date of publication and may later change without notice. Any projections contained in this presentation are estimates only and may not be realised in the future. Unauthorised use, copying, distribution, replication, posting, transmitting, publication, display, or reproduction in whole or in part of the information contained in this communication is prohibited without obtaining prior written permission from Longwave. Pinnacle and its associates may have interests in financial products and may receive fees from companies referred to during this communication.
This may contain the trade names or trademarks of various third parties, and if so, any such use is solely for illustrative purposes only. All product and company names are trademarks™ or registered® trademarks of their respective holders. Use of them does not imply any affiliation with, endorsement by, or association of any kind between them and Longwave.